Best Indian And Pakistani Food

Lajawab Biryani 'N' Grills is a take-out restaurant serving authentic food from the Indian Sub-Continent, it aims to take you on a journey of taste that transcends the seven seas.
It's an Indian family business that was established in 2019 with an aim and passion to
introduce authentic, delicious food from the Indian Sub-continent to the people of
Toronto at very reasonable prices. With the blessings of the Almighty and the support of
our esteemed customer's we have tremendously grown to be of one the most famous
restaurant's in the city.

All Meats Are Served with Fresh
Experience the elegance of true Hyderabadi Chicken Dum Biryani made with the highest quality ingredients, authentic Lajawab secret biryani masala, and lots of love and passion.
Boneless chicken coated with cornflour, fried and then sauteed with Lajawab blend of Chicken 65 spice.
Our famous Tandoori chicken. Marinated with Lajawab's special tandoori spice mix and yogurt for at least 6 to 8 hours making it tender and juicy to the last bite.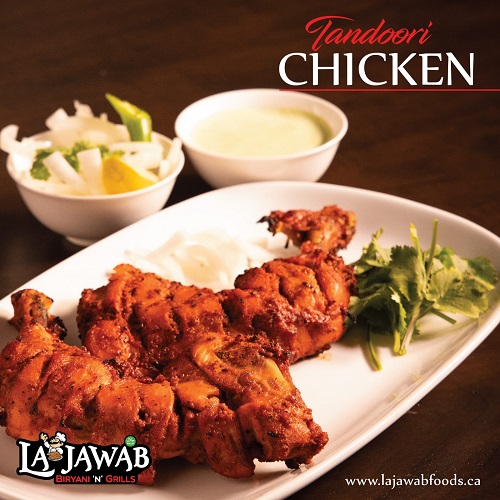 Butter chicken, rice or naan and pop. Meal for one.
Monday – Friday: 11 AM – 3 AM

Saturday – Sunday: 9 AM – 3 AM
"Its very nice restaurant for Pakistani and Indian food. Biryani and Kofta was so nice and it's to clean also. Thanks to the chef. And restaurant staff was also so kind. I will surely recommend this place for everyone. Thanks to chef and restaurant owner."
"I had a lot of Tadka Dal from various restaurants..I picked up the Tadka dal first time from here...the best dal...Very delicious ..impressed...That encourages me to try different food.. keep up the good work Friends"
"It's a great place if you're craving for desi food. Menu is pretty standard with reasonable prices. They have buffet dinner too which is hard to find in this area. I've been getting the student meal plan for more than a month now, and food tastes very good. 💯 recommend!"